---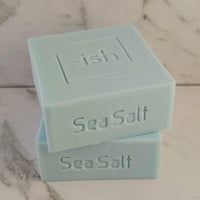 Square-ish bars are um, square! Or nearly square. Close enough to square that they will fit nicely in your Block Dock (if you have one), perfectly in your hand, and comfortably in your grocery budget. Chunky-cut, gelled and slow-cured to last longer for even better value.
Square-ish bars are made with the same premium oil blend used in our other ranges, to gently clean, hydrate and soften your skin. They contain all the naturally occurring glycerin and extra oils in our more expensive bars, but lack the fiddly designs and specialty ingredients like goat milk.
Smells like; a fresh sea breeze.
Ingredients: Rice Bran Oil, Water, Coconut oil, RSPO Palm Oil, Sodium Hydroxide, Shea butter, fragrance, Mineral Mica, Titanium Dioxide