---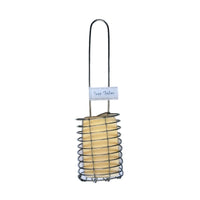 Hand-crafted soap shaker using dish soap instead of detergent.
Fed up with having a plastic bottle standing by the sink? We have got a solution....use the hand-crafted (yes, made in NZ) soap shaker and use a dish soap instead of detergent. 

It can be used to wash your dishes, handwash your clothes or even a foamy bath. 

Why use a Soap Shaker?

Reusable
Eliminates plastic bottles
It is made from galvanised steel wire (this material will develop a grey patina with use as the zinc coating matures)
Hand made in NZ
Vegan
How to use the Soap Shaker?
always rinse food off dishes before washing
use hot water
either have the hot water run over the soap shaker while filling the sink or fill up the sink with water, pop the soap into the shaker and swirl it around until there is a lather
The Soap Shaker can be used anywhere else where you want a soapy lather; washing your precious clothes by hand or having a bath using your favourite soap.

Soap Shaker only, there is no soap included.