---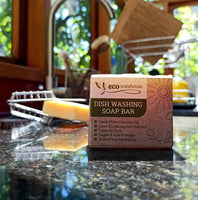 Sparkling clean dishes with the coconut, lime and lemongrass dish soap.
The Dish Soap is the perfect solution to help you wash your dishes. It is designed to be used in a soap shaker. It is made with all-natural ingredients, waste-free no bottles to be recycled.

Why use this soap bar?
Biodegradable
Plastic Free / Zero Waste
100% natural ingredients
100% pure essential oils
No plastic bottles to be recycled
No harsh chemicals are used
100% Cruelty Free
Vegan
Sustainable
Palm Oil Free
No synthetic fragrances and colours
Made in New Zealand
Ingredients: Coconut oil, lime and lemongrass essential oil

Size: 100g