---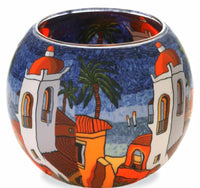 Santorini Sunset, The European Collection

It's the supermodel of the Greek Islands, with its whitewashed buildings, jewel-blue sea and golden sun-drenched views. There's little wonder why Santorini is on the bucket-list of many travellers around the world.

These European-inspired glass tealight holders evoke a sense of calm and wonder.

They involve intricate, handcrafted designs made from polymer clay. The light from the candle inside illuminates the design adding warmth and colour to your favourite room.