---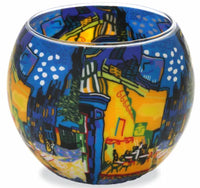 Café Terrace at Night, The Modern Art Collection

A reproduction of the original painting by Vincent Van Gogh in 1888, depicting a street scene of a mid-September evening in Arles, France. Van Gogh once described the coffeehouse scene as "a view of the café on place du Forum, where we used to go, painted at night".

These European-inspired glass tealight holders evoke a sense of calm and wonder.

They involve intricate, handcrafted designs made from polymer clay. The light from the candle inside illuminates the design adding warmth and colour to your favourite room.