---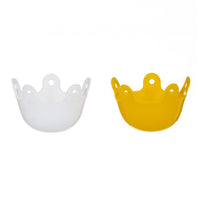 When discussing innovative kitchenware products, Davis & Waddell is your go-to, all-encompassing brand.
This Silicone Egg Poachers Set/2 is both stylish and practical.
Make perfectly poached eggs, every time with this fun set.
The silicone nature allows for a flexible and easy transfer from pot to plate.
It also means there is less mess when poaching your eggs, with a neat and consistent result.
Being reusable, they help users 'fight the war on waste'! Enrich your kitchen with this handy Silicone Egg Poachers Set/2 from Davis & Waddell.